Eye Prescription Contact Lenses for Daily Wear
Contact lenses are a popular choice for those who can't naturally see as well as they would like. The ease-of-use, the comfortable fit, and the natural look that contact lenses provide are just a few of their benefits. At Premier Eyecare and Optical, whether you are a first time user or life-long contact lens wearer, our goal is to help you find the most comfortable contact lenses and give you your best possible vision.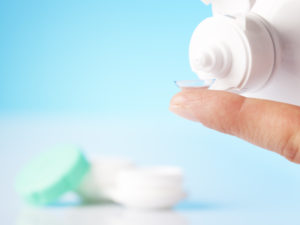 After understanding your vision needs through our comprehensive eye exam we will customize your visit for contact lenses with our contact lens evaluation. As each person is different, we take great care in learning your eyes' specific measurements. Determining your eyes' dimensions and shape is a simple, quick, and painless process with our modern technology and is the first step in allowing us to fit you with your perfect lens.
Let us know what you'll be using your contact lenses for and when you will be using your contact lenses and we can help you find a comfortable and effective set. Whether you need multifocal, daily use, extended wear, or specialty contact lenses, Premier is here to serve you. We offer a variety of brands with different characteristics to ensure you get a contact lens that suits you and your eyes.
While finding you the perfect contact lens we will also ensure you know how to properly care for your lenses and how to maintain good eye health. Our experienced optometrists will guarantee you have all the necessary knowledge in contact lenses care and products to keep you seeing clearly for years to come.